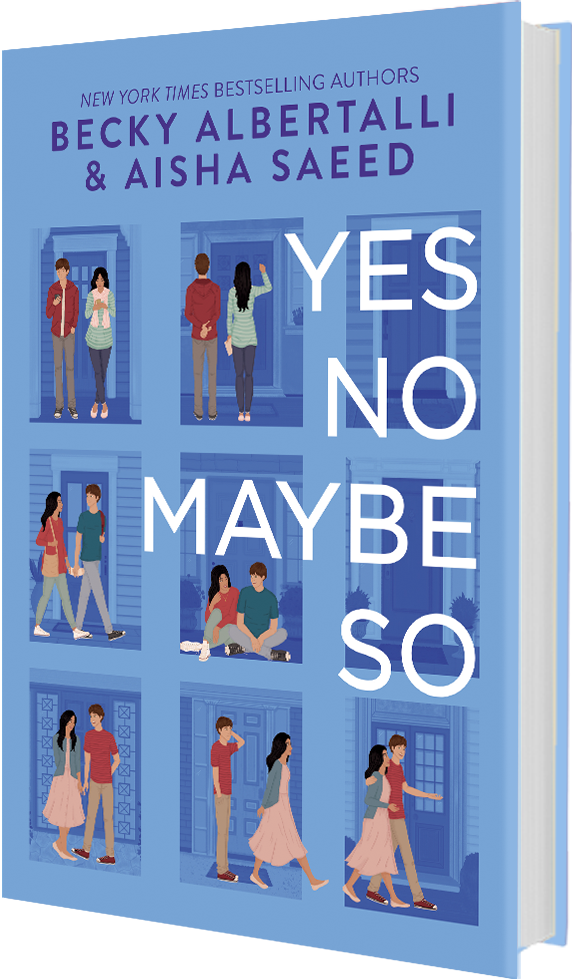 A New York Times Bestseller!
A book about the power of love and resistance from New York Times bestselling authors Becky Albertalli and Aisha Saeed.
YES
Jamie Goldberg is cool with volunteering for his local state senate candidate—as long as he's behind the scenes. When it comes to speaking to strangers (or, let's face it, speaking at all to almost anyone) Jamie's a choke artist. There's no way he'd ever knock on doors to ask people for their votes…until he meets Maya.
NO
Maya Rehman's having the worst Ramadan ever. Her best friend is too busy to hang out, her summer trip is canceled, and now her parents are separating. Why her mother thinks the solution to her problems is political canvassing—with some awkward dude she hardly knows—is beyond her.
MAYBE SO
Going door to door isn't exactly glamorous, but maybe it's not the worst thing in the world. After all, the polls are getting closer—and so are Maya and Jamie. Mastering local activism is one thing. Navigating the cross-cultural crush of the century is another thing entirely.
Jacket art by Soumbal Qureshi. Jacket design by Chris Kwon and Alison Donalty.
"Buoyed by humor, enriched by a colorful supporting cast, and strung through with a charming (and charmingly awkward) romantic subplot, Jamie and Maya's story, their miscommunications, and their true connection will win hearts and inspire action." – Booklist (Starred Review)

"Albertalli and Saeed unfold a story told in alternating chapters that weaves together timely, relevant, and engaging themes. With topical references to state and national issues . . . this is a warm, beautiful story about relationships' beginnings, endings, and transitions; and the transformative power of local activism." – School Library Journal (Starred Review)
Also available in paperback!