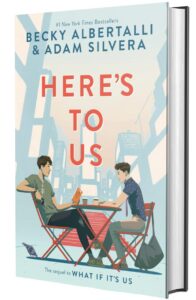 #1 NYT Bestseller! Becky Albertalli and Adam Silvera reunite to continue the story of Arthur and Ben, the boys readers first fell for in the bestselling rom-com What If It's Us.
Ben has spent his first year of college working on his fantasy manuscript with his writing partner Mario, who is a great Spanish tutor, and an even better kisser. So why can't he stop thinking about the fact that Arthur's back in town two years after they called it quits?
Arthur is in New York for a dream internship on Broadway, with a boyfriend back at home that he couldn't be happier with. But when he comes upon Ben cuddled up with a mystery boy, he starts to wonder if his feelings for Ben ever truly went away.
Even as the boys try to focus on their futures, they can't seem to help running into each other in the present. Is the universe forcing them to question if they're actually meant to be?
Possibly not. After all, things didn't work the first time around.
Possibly yes. After all, the sparks are still flying.
Sometimes you just have to take a leap of faith and raise a glass.
Here's to celebrating old friends!
Here's to embracing new beginnings!
Here's to believing in second chances!